About the Northern Charitable Foundation
Awareness changes your destiny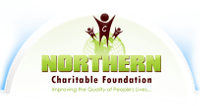 The Northern Charitable Foundation is a non-for-profit organization founded in 2007 by Alex and Rosa Dembitzer and Jacqueline Fried. The foundation's mission is to empower individuals with tools such as information and access to professional support in order to make the best health choices for them and their families.
The foundation focuses on health initiatives including genetic cancers such as BRCA, Alzheimer's Disease and supporting people with physical disabilities. The foundation believes in empowering girls through its program with the Israel Tennis Centers Foundation. The program is an innovative combination of high level performance tennis and leadership training to create the female leaders of tomorrow. The foundation works in the United States and Israel through collaboration with local established organizations.
Under the leadership of the new generation, the foundation is planning to expand into wildlife preservation and climate change.
The Northern Charitable Foundation is known for the high quality of its programs and is founded on the core values of responsibility, accountability, transparency, leadership and integrity. The founders are personally involved and invested in
all of its programs, chosen specifically out of personal family illnesses and suffering.